EXCLUSIVE WEB SPECIAL!
Secure your spot and get started today with our EXCLUSIVE offer!
By opting into the web form above you are providing consent for AKKA Olathe Martial Arts to send you periodic text messages. Standard rates may apply. You can reply HELP at anytime or learn more. You may opt-out anytime by replying STOP.
DISCIPLINE & CONFIDENCE!
Build character and leadership qualities
Martial arts classes benefit growing children far beyond the dojo and in many real-world scenarios. Our structured classes are meant to help develop coordination, physical fitness, mental strength, as well as gain valuable social skills. Through positive reinforcement, we can bring out the best in your children to help them succeed in life.
VIEW OUR KID'S MARTIAL ARTS PROGRAM
AKKA has been a great addition for our son. Offering learning and discipline at the same time is what we were looking for. The instructors have been phenomenal at handling the kids which are all in the same age group but may have different skill levels allowing the kids to not only focus on improvement for themselves, but helping other kids learn too! Mr. Bradberry, Ms. Green and Mr. Clay have all shown their skills and knowledge of the sport which makes us comfortable and inspired that our child will be progressing at a pace they can handle. We enjoy being a part of the AKKA Karate group!
Jami Applegate
The folks at AKKA Karate USA Olathe are top notch. I was greeted with a smile and felt at home right away. My long association with Mr Williams has always been one of encouragement and respect. He will go out of his way to be the kind of man that you can count on in any circumstance. I strongly believe that training at AKKA Karate USA Olathe will be a very profitable experience. Go Today and sign up.
Greg Cole
My 11 year old son was being picked on at school. I was looking for a place where he could gain self confidence but yet also balance that learning with self control. I was fortunate to find that with at AKKA Olathe Martial Arts. A year after my son started, my 6 year old daughter started and I didn't want to be left out. During our black belt tests my daughter lagged and struggled during a run. One of our fellow students (another student's father) picked her up on his back and carried her make to the finish as we were all determined to finish together. There's amazing comradery in the classes at AKKA. My children have grown into confident and successful young adults. The discipline and confidence they gained training was a big contributor. My thanks to all our instructors.
Geri Seavey
I have been a part of AKKA OLATHE for at least 6 years and my daughter trained there for about 3 years as well. The Instructors are top notch and truly care about everyone they teach.
I have not been able to train as much lately due to changes with my work schedule, but have honestly loved every minute that I have spent there.
I think this is a great school for anyone of any age to consider. If you want to get in better shape, build confidence or just learn more about self defense and martial arts, you should check them out!
Gary Winchel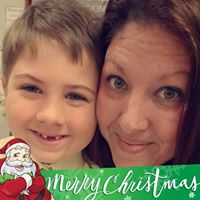 My son & I have been a part of the AKKA Karate Olathe family for nearly 2 years. But I just started training at the beginning of the year. I have since experienced for myself the amazing in class instruction by some pretty awesome instructors, but training doesn't stop there. They have instructional videos available for you to utilize outside of class to help perfect your techniques, because of them I felt more confident when it came to testing for my next belt. With diverse class times, i'm sure you'll have no trouble finding a time that will fit your schedule!!
Amy Leverknight
We have been part of the AKKA family for about 1.5 years. My sons initially joined after attending a birthday party and I fell in love with the staff. I can't say enough great things about the staff, they are supportive, fun and passionate about their jobs. Since then, I have joined and was surprised by how much I love it. Being an introvert, I was terrified to try something that put me in the spotlight but Karate has given me the confidence to come out of my shell. AKKA is not just any dojo, it is truly a family.
Abby Baird
I've been a student of this school on and off for over 18 years now. The staff is knowledgeable and are great with kids. My son tested for his junior first degree black belt when I tested for my second degree black belt and those are memories that I'll always treasure. If you're looking for a true, well rounded, family oriented, martial arts school who doesn't put an emphasis on pushing through people to their next rank, regardless of whether or not they actually know the material, then this is the place for you.
Rich Clauser
I don't currently attend but, I've always wanted to come back to my karate family. My father and I started together back in 1999 when I was about 5 years old. I stayed with it till I was about 16 and I thought I had better things to do. I'm now 24, wishing I had never left in the first place. The instructors and the atmosphere that they provide for the students, was above all one of the BEST experiences of my life. It wasn't just a place to go learn karate at. It was a home away from home, another place where I always felt welcomed. If there was an option for more than 5 stars, I would most definitely be trying to put 100 stars.
Trevor Anton Bruce
I absolutely love AKKA it has great instructors that care for you and want tor be apart of. For me personally it is a great stress relief and I couldn't of gone to a better Dojo I love it and I intend to stay here. It's a great place for kid and adults!
Houston Dearing
I signed my 3 boys up in 2000 because I wanted them to learn self discipline and have more confidence. I joined a month later to share the experience. All 3 of my sons achieved the rank of Black Belt. One started at age 6 and earned 6 Black Belts. One earned the rank of 4th degree Black Belt. They all grew to be better men because of AKKA. They also went through the Boy Scout program. That is the 1- 2 punch of character building. I am still a student, teacher and proud member of this fine organization.
Robert Hannah
The owners care about each person as an individual. Confidence, growth, and perseverance are the cornerstones of their practice. My family has rarely had such a genuine experience.
Denise Orrison Skinner
IMPROVE FLEXIBILITY, BALANCE, AND STRENGTH
Get fit while learning martial arts
Learn self-defense, build confidence, and get in the best shape of your lives! Martial arts has tons of physical, mental and social benefits, suitable for anyone and everyone. Become part of something positive and learn new skills from trained martial arts professionals. It's easy to get started—Enroll in martial arts classes today!
View Our Adult Martial Arts Program
Request Information
ACCESS OUR SCHEDULE & SPECIAL WEB OFFER!
Get started today with our EXCLUSIVE offer!
Request more information today to find out how you or your child can start training!
Get Started Today